All our best wishes for this new year 2019!
2018 proved to be an eventful year for SESAMm with multiple renowned customers acquired, our A series fundraising campaign, numerous prizes won and milestones reached. Here is a look back at our rewarding year 2018 followed by our next steps for 2019.
Successful market entry in the US and around the world
The rapid growth of the alternative data industry and of SESAMm
As a Fintech company specialized in alternative data for Asset Management, 2018 represented a thrilling year in our industry and 2019 already promises to be even more exciting.
During 2018, after our very first business trip in the United States, our international sales development beyond Europe began accelerating. In just one year, we already signed contracts with multiple clients. These include major hedge funds in the US and a major global trading company managing $100 billion in financial assets and part of the Top 10 in its market. The US market represents a powerful strategic growth driver and we are already preparing to open an office there soon!
SESAMm signed its first contract with a client in Africa: Ipro Investment, renown asset manager established for 25 years specialized in emerging markets. Finally, we also signed a contract with our first Japanese client, Nikko Global Wrap, one of the subsidiaries of Sumitomo Mitsui Asset Management which is a major asset manager in Japan managing JPY 1.7 trillion.
Strengthening and developing our position in Europe
At the European level, SESAMm has also extended its customer portfolio:
Groupama AM: new major clients and leading French Asset Management players managing €103 billion Asset under Management (AuM);
Société Générale: leading French bank present all over the world;
Raiffeisen Bank International: one of the leading banks in Europe with more than 50,000 employees servicing over 16.5 million customers and possessing around 2,400 business outlets;
GT Patrimoine : the largest consulting and private management firm in the Lorraine area and based in France for 12 years.
In addition, after our 1st successful collaboration, a new contract was signed with Candriam, leading Asset Management firm and members of the New York Life Group, managing more than $112 billion AuM worldwide.
We are very proud to see how much traction we gained in just a year. The growing use and interest in alternative data for the Asset Management industry, both for quantitative and fundamental funds and asset managers, lead us to prepare for new opportunities of growth & business development.
Cutting edge solutions to respond to market needs
Big Data & AI for Cryptocurrencies
Our first cryptocurrency project began in early 2018. Initially, we started tracking the evolution of the most popular cryptocurrencies, such as Bitcoin (BTC) and Ethereum (ETH) and we analyzed their social data to produce social sentiment & emotions indicators. These indicators have since been integrated into our visualization platform of market sentiment, L'Humeur des Marchés.
This led us to establish a unique partnership based on L'Humeur des Marchés with NapoleonX, a major player as the leading French cryptocurrency manager: the first sentiment and emotion cryptocurrencies analysis destined for the general public. Since then, ETH and BTC sentiment, emotions & opinion value from SESAMm has been available to individual investors and the general public on NapoleonX platform.
The evolution of L'Humeur des Marchés
Our platform L'Humeur des Marchés is an essential tool to guide companies in their investments. During 2018, multiple improvements were added into L'Humeur des Marchés to further enhance its insights & analytics. For example, users have now the possibility to build automated strategies which can generate daily trading signals. Multiple new features were also added such as a strategic backtesting system, daily alerts with 3 years of history and day+1 signal to forecast market movements giving asset managers an edge over competitors.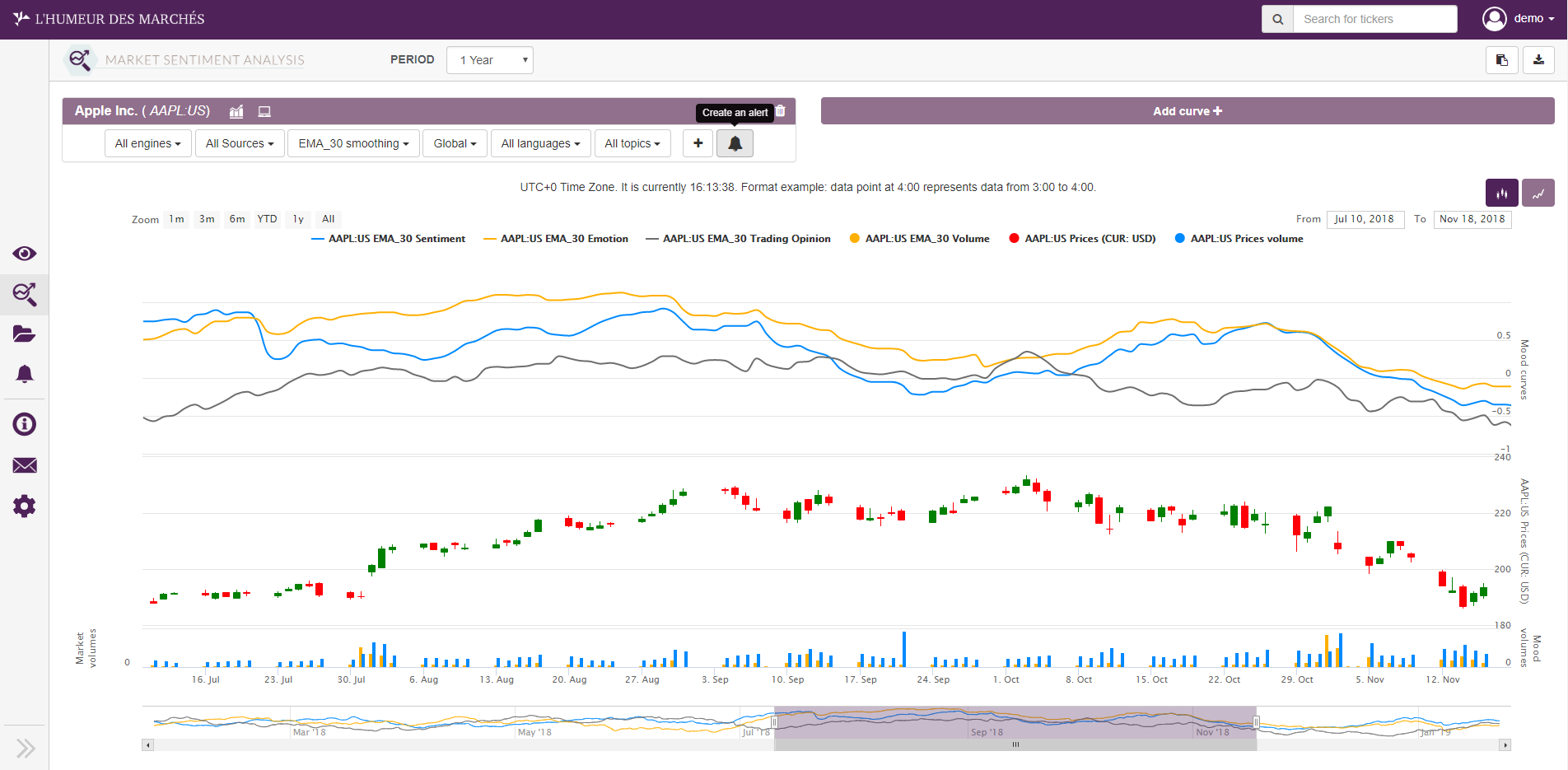 "L'humeur des marchés" is SESAMm's data visualization platform to analyze market sentiment & emotion for asset management
L'Humeur des Marchés, our data visualization platform
Finally, additional filters have been added to better study & analyze market sentiment: there are now 6 different filters for data sources (sort by sources from web & press, news, blogs, discussions, social trading or all of them) and 9 languages covered (sort by English, French, Spanish, Chinese, Japanese, Portuguese, Italian, German or all of them). These new filters allow for a wider and more accurate coverage of assets, leading to improved tools & insights for investment decision.
Global recognition & awards for SESAMm
To accomplish our worldwide ambitions, we have started being more and more present abroad, especially at international events. They represent great occasions to promote SESAMm, demonstrate the unique benefits and advantages brought by our technologies & solutions and finally create business opportunities.
This year, we participated in many international events in the US and in Japan, including New York and Hong Kong for Eagle Alpha's Alternative Data event, Canada, Africa and even London at the French Fintech Tour.
Having been selected for unique international awards reinforces our confidence in the benefits of our solutions for the Asset Management industry, for example with "Talk data to me" by Neudata, Elevator Lab Competition, and Groupama's award "Créateur de confiance" (Trust Creator) among others.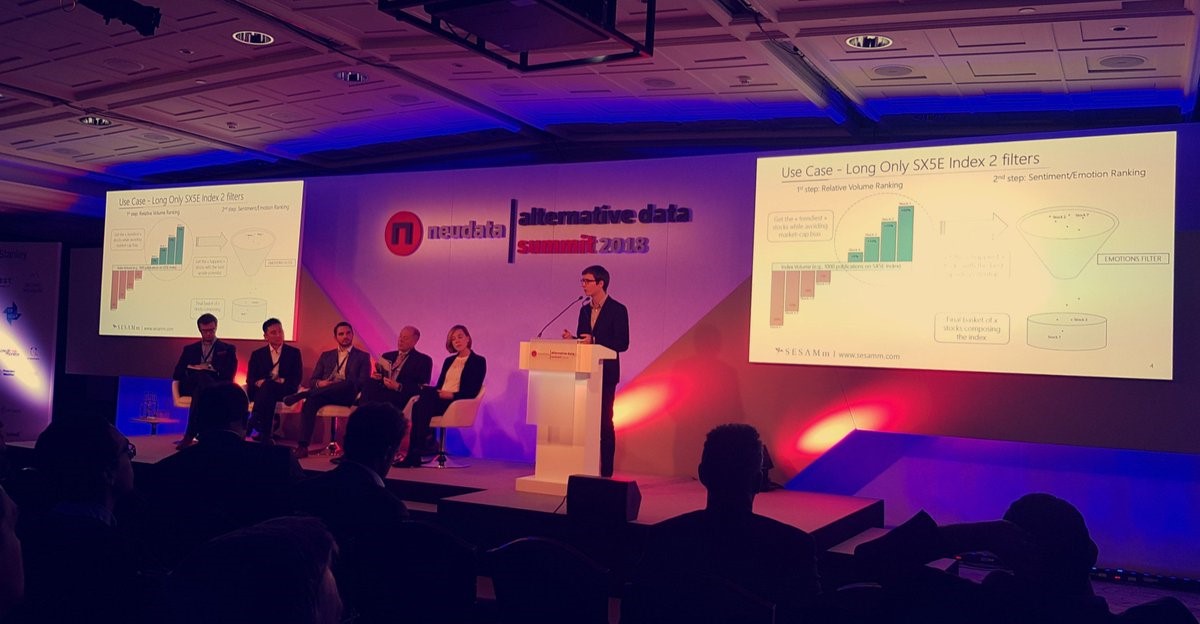 SESAMm won the pitch "Talk data to Me" of Alternative Data Summit event by Neudata
SESAMm pitch "Talk Data to Me" winner during Alternative Data Summit by Neudata
Moreover, SESAMm has competed in several acceleration programs, in which we were selected in the following ones:
Fintech Business Camp Tokyo, the Tokyo Metropolitan Government accelerator program by Invest Tokyo and powered by Accenture;
Elevator Lab, Acceleration program of Raiffeisen Bank International where SESAMm competed and was selected;
French Tech Tour America, IMPACT USA's program to prepare and discover North America's markets & opportunities;
Pass French Tech, La French Tech's highly selective program for hyper-growth startups & companies.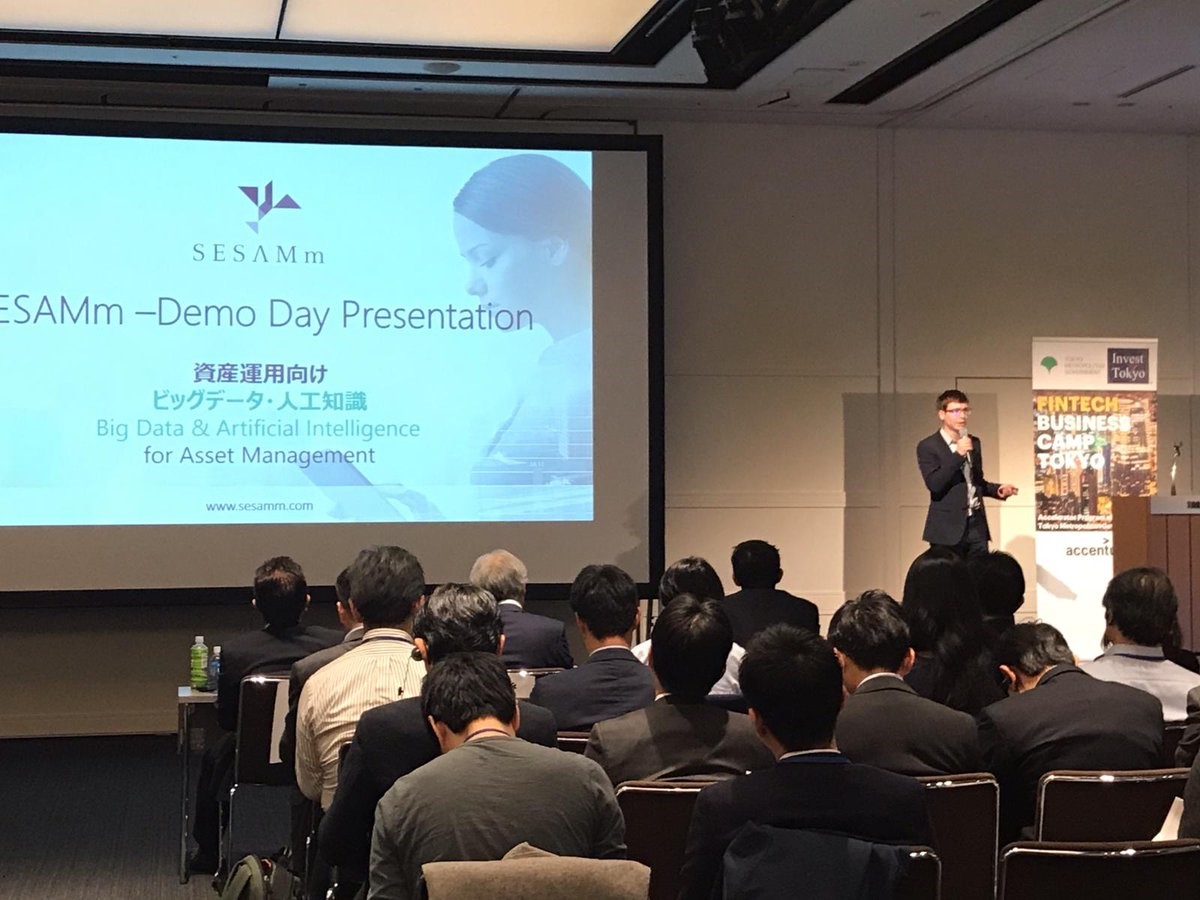 SESAMm's plans for 2019: recruitment, development and growth
This year, we are very proud to see our team grow so much in so little time: we had 16 collaborators at the beginning of January 2018 and we are now a team of 28 members! Talented profiles have joined SESAMm team with NLP, AI & Quant engineers & experts from world-renowned schools. New collaborators will join SESAMm in the first quarter of 2019 and we are still recruiting in various fields such as Data Science, Quantitative Analysis, IT and Natural Language Processing among others. You can find all our offers on our dedicated page SESAMm Career!
Following our international success, especially in the US and in Japan, we are now preparing to open an office in the US in the following months and are already considering this option for Japan. Next month's promise to be exciting and we will be participating in multiple events such as AI & Data Science for trading in New York in March, Machine Learning in Quant Finance by GFMI in April, and many events & conferences on alternative data, data science, Artificial Intelligence and Big Data for Asset Management around the world.
As you can see, 2018 represented SESAMm an exceptional year for its growth with new customers, including global companies, technological improvements for our solutions & services and a bigger and even more motivated team! Our major event in 2018 was the accomplishment of a €2.6 million Series A fundraising campaign, which enabled us to continue our international development, mainly in America and Asia, and the recruitment of many profiles. 2019 will represent another step for SESAMm to become a leading company in the alternative data solutions in the world. Stay tuned: SESAMm news will arrive soon!