Introduction
As generative AI has grown from a fledgling concept to a force disrupting most industries, its broader implications have come under scrutiny. Public perception of generative AI has also evolved significantly due to its association with various Environmental, Social, and Governance (ESG) factors. In this article, we'll offer an extensive ESG analysis of generative AI, focusing on how different industries react to it, the ESG risks it potentially fuels, and the ESG positive impact events it has given rise to.
Generative AI: Public Perception Since Launch
Generative AI was initially met with widespread enthusiasm as the next evolutionary step in artificial intelligence. OpenAI's ChatGPT garnered significant attention quickly upon its release in 2022, as it amassed 100 million monthly active users in just two months post-launch. However, as its capabilities have become more powerful and universal, many ESG controversies have emerged, impacting the public sentiment towards the technology. A notable drop in sentiment polarity was observed from October to December of '22, going from 0.4 to 0.22. The decline in polarity was attributed to some critical topics, notably the environmental toll of its energy consumption and the ethical difficulties posed by its potential to disseminate false information.
* Polarity, a proprietary metric developed by SESAMm, ranging from -1 to 1, represents the aggregate of positive and negative sentiment.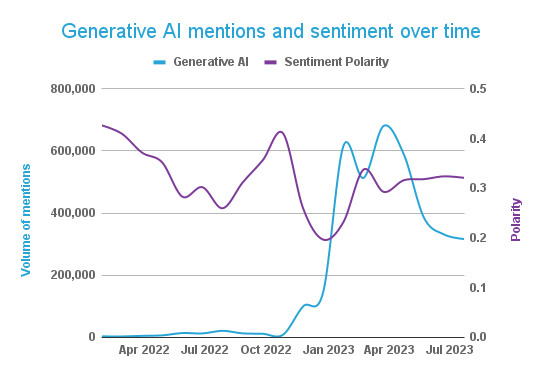 Generative AI and its Implications on ESG
In What Industries Is Generative AI Mentioned More Often?
As expected, the IT industry was initially the most mentioned, along with Generative AI. However, as the technology became more widespread, other sectors have garnered more attention among web publications and social media. In particular, the communication and finance sectors are capturing a substantial share of the attention. In particular, data privacy in finance and communications are the main concerns, and fraud for finance is also being widely discussed on the web.

ESG Controversies Fueled by Generative AI
When we looked at ESG controversies and risks in detail, we found that most of the attention and mentions are related to social risks, particularly Human Rights (right to privacy), labor rights, and customer relations (customer privacy). Governance has also gotten its fair share of ESG controversies, primarily focused on anticompetitive practices (copyright infringement). On the environmental side, controversies are concentrated on water consumption (by Gen AI tools) and climate change, specifically energy consumption. However, the number of mentions and controversies has decreased considerably.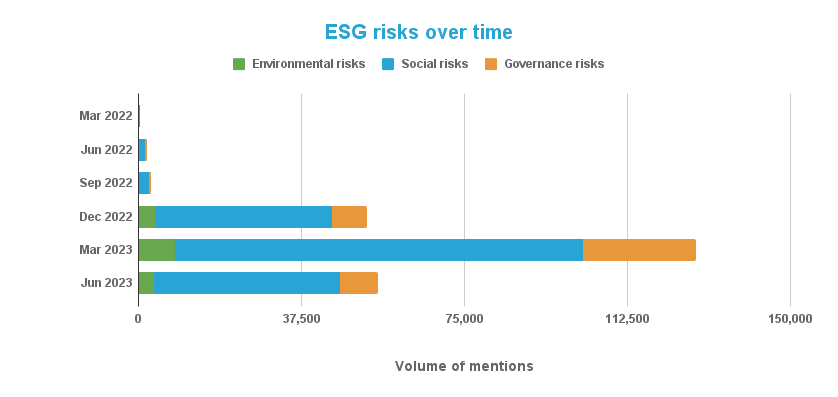 Data Breaches: The Focal Point
By far, the lion's share of ESG controversies and mentions gravitate towards social risks, specifically data breaches. From Italy banning Chat GPT in April to Samsung's alleged data leak in August, controversies around data privacy have been among the most concerning topics surrounding Chat GPT ESG risks. In just five months, mentions of data breaches went from virtually 0% to over 10% of total mentions.
Digging deeper into data breaches at companies, we found that the number of breaches did increase significantly after generative AI tools became available. In particular, we see that the number of internal (employees) vs. external (non-company affiliated) data breaches increased by almost 50% when using generative AI tools from 14% to 21%.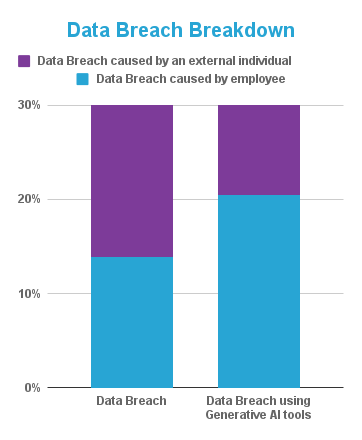 The Silver Lining: ESG Initiatives Generated by Generative AI
Despite all the risks and controversies emerging, generative AI is also an enabler of positive ESG initiatives. Interestingly, on the positive impact side, we see a similar volume of mentions of initiatives on the three ESG dimensions.
Generative AI has shown promise in optimizing energy use, reducing waste, and even modeling and mitigating the impacts of climate change. On the environmental side, we see a rapid increase in mentions related to its applications in efficiency and productivity, asset reliability, operational safety, lower energy consumption, and reduced environmental impact.
The technology also has the potential to revolutionize healthcare by enabling more accurate and early diagnosis, thereby contributing to social well-being. Generative AI could also transform web surfing and make it easier for users to navigate the internet and find or generate information.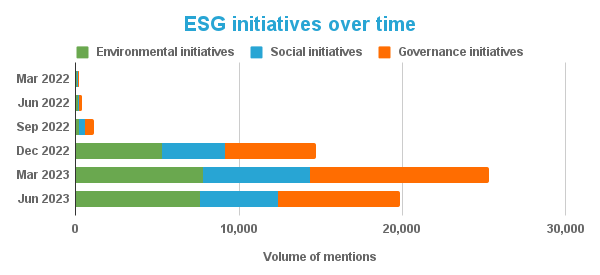 Conclusion
As our analysis shows, generative AI is bringing unprecedented capabilities and complex ESG risks and controversies. We expect to see it evolving, with public sentiment shifting and industries grappling with its ESG implications. But we are still in the very early stages of this new trend and will continue monitoring its evolution.
---
SESAMm's AI Technology Reveals ESG Insights
Discover unparalleled insights into ESG controversies, risks, and opportunities across industries. Learn more about how SESAMm can help you analyze millions of private and public companies using AI-powered text analysis tools.