With 2023 drawing to an end, we wanted to share the most relevant ESG controversies during the year. In this article, we provide a comprehensive overview of the year's top ESG controversies, breaking them down into the three pillars of ESG: Environmental, Social, and Governance. Through our research, we will explore each of these areas in detail, shedding light on the most talked-about controversies and the companies involved.
Methodology
To gain a comprehensive understanding of the ESG risks in 2023, we conducted a thorough analysis of web mentions related to SESAMm's ESG taxonomy across our expansive data lake with 20B+ articles. This allowed us to evaluate the overall volume of mentions related to each risk category: Environmental (E), Social (S), and Governance (G).
ESG Risks Over Time
Before diving into the details, we looked into the main trends over the last few years in ESG trends. We found a detectable increase in the volume of ESG-related web mentions, with an emphasis on social risks. Especially since the start of 2020, social risks have been on a consistent upward trajectory. Notably, there was a significant spike in mentions around mid-2020 following mass protests amid the COVID-19 lockdown, in addition to reports of cyberattacks and allegations of sexual assault. Furthermore, 2021 saw an uptick in mentions related to issues of racism (Black Lives Matter movement) and homophobia.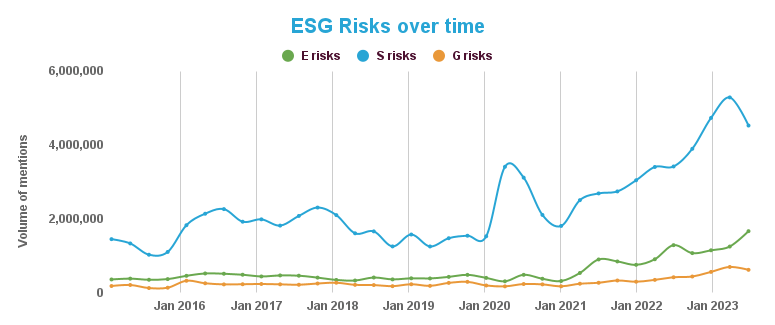 Figure 1: ESG risks over time.
ESG Risks: Focus 2023
We outlined the prominent risks in 2023: social risks, with layoffs and strikes gaining attention; environmental risks, marked by wildfires and oil spills; and governance risks, where tax evasion and ethical violations like bribery were in focus. Each risk category underscores the urgent issues facing society and the need for accountability and action.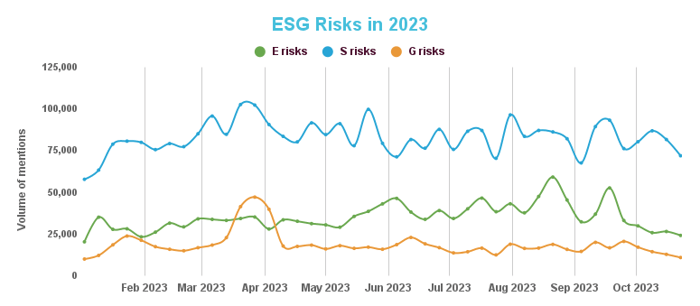 Figure 2: ESG risks in 2023.
Environmental Controversies of 2023
Environmental risks may not match the sheer number of mentions that social risks receive, but their presence in discussions has steadily grown over the year, particularly in the third quarter. Let's explore the most common controversies that have emerged.
Climate Change and Policy
Climate change dominated environmental discussions in 2023. A noticeable peak in mentions arose in the latter half of the year, particularly around heatwaves and debates surrounding climate policies.
Atmospheric Emissions
September saw increased discussions about atmospheric emissions, notably due to the emissions from

volcanic eruptions

,

hybrid cars,

and the discovery of

toxic metals

in food products.
Impact on Biodiversity
The wildfires that spread in June sparked significant debates around their impact on biodiversity, leading to increased mentions and concerns related to environmental preservation.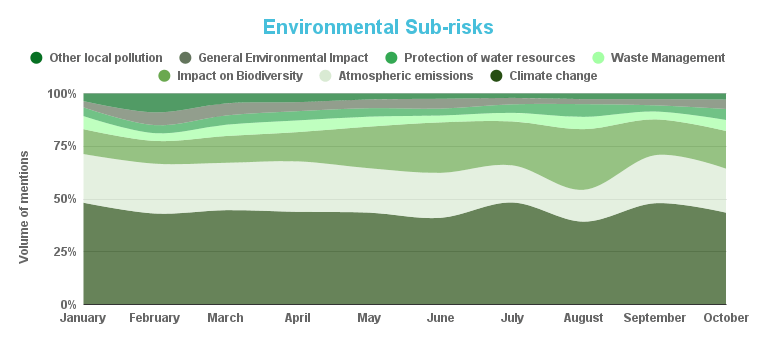 Figure 3: Top environmental sub-risks in 2023.
Top 5 Environmental Controversies
These controversies are ranked by relative volume*.
Volume of mentions: 62
Relative volume: 69%
A significant portion of environmental risk discussions surrounding Marathon Petroleum was due to its chemical leak in Garyville. This incident led to massive fires, so large they could be observed from space. (source)
Volume of mentions: 30
Relative volume: 54%
Nestlé faced scrutiny in 2023, with over half of its environmental risk mentions associated with drought controversies. The company was urged to cease its water mining activities following severe droughts in France. (source)
Volume of mentions: 178
Relative volume: 53%
Coca-Cola garnered attention due to a hydrochloric acid leak in January 2023, leading to significant environmental concerns. (source)
Volume of mentions: 571
Relative volume: 31%
Exxon, along with Guyana's environmental agency, was implicated in breaches of oil spill insurance policies. (source)
Volume of mentions: 872
Relative volume: 23%
An oil spill from a Shell pipeline adversely affected farms and a river in a region of Nigeria already grappling with pollution. (source)
Social Controversies of 2023
Social risks have taken the forefront in 2023, with notable web mentions increasing significantly. Here are the most relevant controversial topics:
Social Dialogue
Social discourse intensified at the start of the year, with news of widespread strikes in various sectors, including aviation and education, primarily driven by pay disputes. The wave of layoffs in several tech companies was the talk of the town, especially during the first quarter of the year.
Respect for Human Rights
Diversity and Inclusion
Discrimination against minority groups, including the LGBTQ community and people of color, and age-based discrimination became a significant topic of discussion in 2023.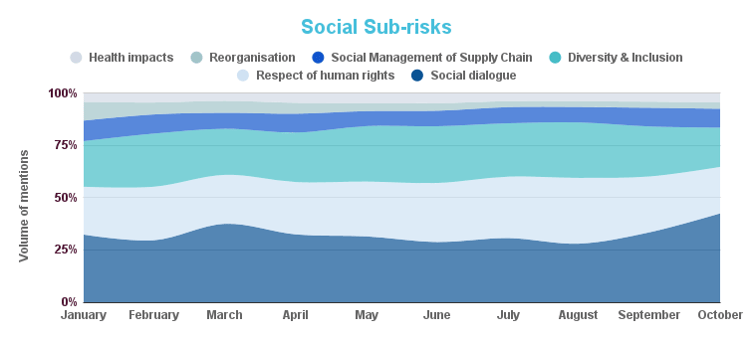 Figure 4: Top social sub-risks in 2023.
Top 5 Social Controversies
These controversies are ranked by relative volume*.
Volume of mentions: 8,903
Relative volume: 87%
McDonald's faced substantial social risks in 2023 due to significant layoffs of its corporate staff in April. The move led to public concern and discussions around the company's employment practices and stability. (source)
Volume of mentions: 13,504
Relative volume: 43%
Google found itself in the spotlight as it faced challenges related to major layoffs in January and October of 2023. These layoffs contributed to almost half of the social risk mentions associated with the tech giant. (source)
Volume of mentions: 10,965
Relative volume: 38%
Meta, formerly known as Facebook, also faced scrutiny as 38% of the company's social risk mentions revolved around layoffs that took place in March and October 2023. (source)
Volume of mentions: 6,060
Relative volume: 28%
Microsoft faced challenges due to disruptions caused by cyberattacks in early June. In addition, the company had to navigate through controversies related to layoffs, contributing to its social risks. (source)
Volume of mentions: 7,246
Relative volume: 8%
X/Twitter experienced a global outage, which was followed by significant layoffs. These events led to considerable public discussions and social risks for the company. (source)
Governance Controversies of 2023
Governance risks, though often overlooked, play a pivotal role in shaping corporate responsibility and ethical conduct. In 2023, several governance controversy trends emerged:
Money Laundering
Tax evasion was a major topic of discussion in the first quarter, highlighting the need for greater transparency and accountability within corporations.
Bribery
There was a significant increase in mentions related to bribery cases, underscoring the challenges in maintaining ethical governance standards.
Competitive Behavior
This year has witnessed a rise in competitive conduct controversies, with several companies being scrutinized. Antitrust violations, price manipulation, and digital advertising dominance are central to these disputes.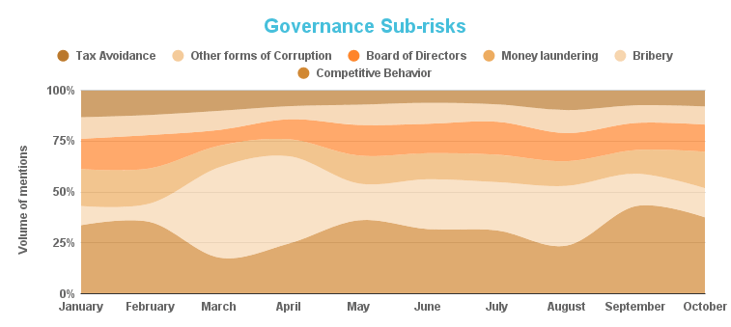 Figure 5: Top governance sub-risks in 2023.
Top 5 Governance Controversies
These controversies are ranked by relative volume*.
Volume of mentions: 8,085
Relative volume: 40%
FTX, a notable entity in the financial sector, found itself at the center of governance controversies. A significant portion of the discussions surrounding FTX's governance risks in 2023 pertained to allegations of its founder's involvement in bribery schemes. (source)
Volume of mentions: 3,162
Relative volume: 28%
Apple, a tech giant, faced scrutiny as a third of its governance risk mentions revolved around antitrust violations reported in October 2023. (source)
Volume of mentions: 4,429
Relative volume: 25%
Microsoft encountered legal challenges with its deal with Activision. The company had to approach the court to reject the FTC's request to halt the deal. (source)
Volume of mentions: 2,251
Relative volume: 18%
X/Twitter, another major player in the tech industry, faced legal challenges when a judge dismissed a shareholder lawsuit against Elon Musk concerning a Twitter buyout. (source)
Volume of mentions: 3,920
Relative volume: 13%
Google faced judicial sanctions for allegedly destroying evidence in an antitrust case, further emphasizing the critical governance challenges even major tech giants face. (source)
Conclusion
In conclusion, the year 2023 proved to be eventful in the ESG landscape. From environmental concerns sparked by significant events like chemical leaks and wildfires to social challenges such as widespread layoffs and discrimination and governance risks underscored by bribery and antitrust violations, the year offered a comprehensive view of the myriad challenges companies face in the modern era.

Understanding these controversies and the companies involved provides invaluable insights for stakeholders, especially in the private equity and asset management sectors. AI-driven ESG insights, like those provided by SESAMm, can be pivotal in navigating the ever-evolving ESG landscape, ensuring informed decision-making and proactive risk management.
Relative volume*: Relative to the total volume of E, S, or G risks for the company during the same period.
---
SESAMm's AI Technology Reveals ESG Insights
Discover unparalleled insights into ESG controversies, risks, and opportunities across industries. Learn more about how SESAMm can help you analyze millions of private and public companies using AI-powered text analysis tools.