Sésame, ouvre-toi, or in English, open sesame, is the famous magical phrase that inspired us to name SESAMm 8 years ago today. And true to its name, since its inception, SESAMm has been opening doors to a new world of advanced analytics powered by natural language processing.
TRIVIA QUESTION: Why the unusual spelling of SESAMm? (Read until the end for the answer.)
Our heritage
Unlike the phrase's magical nature in the "Ali Baba and the Forty Thieves" story, SESAMm relies on technology to open doors and uncover hidden treasures. And that has been our goal since we started the company in April 2014. Pierre Rinaldi, Florian Aubry, and I saw the vast amount of textual information available on the web, from news websites to NGO reports and social media. We set out to find a way to translate all that information into powerful, digestible, and actionable insights. In eight years, we've created the most extensive data lake in the industry that relies not only on social media but also on forums, review sites, and premium data. Today, the data lake comprises nearly 20 billion articles and grows by 20% year over year.
As we alluded to earlier, the real key to the treasure trove is the technology that uncovers and synthesizes all that data: artificial intelligence, particularly natural language processing (NLP). Our highly-talented technical team developed advanced algorithms to accurately "read" web articles and distill them into only the most relevant data for our users, received as signals and alerts.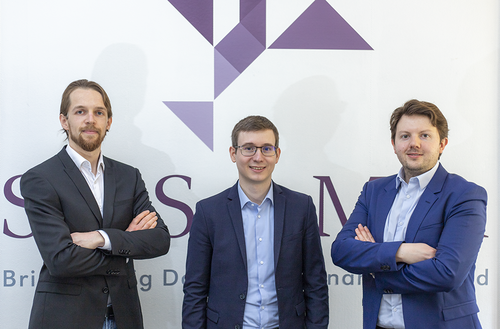 From left to right: Co-founders, CTO Florian Aubry, CEO Sylvain Forté, and COO Pierre Rinaldi pictured.
In these eight years, we've been able to serve and work with some of the brightest minds in the industry who have trusted us with multiple challenges. Asset managers, private equity firms, and corporations leverage SESAMm's products for investment strategies, deal sourcing, due diligence, portfolio monitoring, and ESG and positive impact indicators.
In particular, we're using our technology to transform the ESG industry. For example, we help track controversies and monitor the positive impact for companies that no one else covers in the entire world.
Our team and values
As we proudly surpass the 100-employees mark soon, this is a good moment for us to pause and reflect on where we are and where we want to go. Our mission, to become the world's reference for textual web data analysis, hasn't changed. We're more convinced than ever that we are on the right path to achieving that goal.
Our team collaborates between six different sites in 5 countries, many offices, and various cultures. As a deep-tech company, 70% of the group comprises PhDs, engineers, and developers. Moreover, they're an amazing team that follows horizontal management and servant-leadership approaches, part of the culture we value and insist on.
To close SESAMm's first eight years on a high note, Forbes included me on their 30 under 30 list only a few weeks ago. In my eyes, that is a big recognition of the company and the work the team has done over the years.
Our future
More ESG. As we mentioned before, we want to transform the ESG industry. Currently, we cover a total of close to five million public and private firms. We aim to bring more transparency to the market and align with new regulatory frameworks in a fast-moving environment. By better analyzing companies, we believe we can help investors push for change. For example, to help monitor for positive impact and align with UN sustainable development goals (SDG), we're launching a new product to systematically generate these types of alerts.
Of course, we want to bring these technologies to new clients, like:
Private equity firms
Quantitative asset managers
High-yield portfolio managers
Corporations to fuel their CSR strategy
From CSR teams looking to evaluate their clients and suppliers from an ESG perspective to central data and analytics teams wishing to generate custom NLP analytics at scale, SESAMm aims to become a central solution.
More importantly, we want to democratize NLP web data. This battle for good technology is our ultimate goal because every large company will need to address this topic at one point or another. So when it's your turn, we want to be there to make it easier for you to achieve tangible results.
And last but not least, as a fintech company, we set our goals and ambitions on higher grounds whenever we complete a funding round. Our Series B with major private equity firm The Carlyle Group (CG) and New Alpha, a Paris-based fintech VC, was a significant step up. And the more we scale, the bigger we see the potential to apply our tools within existing or new fields, industries, use cases, and countries. This step-up naturally inspires us to plan for new ways to grow, whether with new services or reflecting on the potential of an upcoming funding round.
Our appreciation
Thank you. Without you, we wouldn't be here. Special thanks to the SESAMm team. To our investors, The Carlyle Group, New Alpha, Havenrock, Caisse d'Epargne, AngelSquare, and more. To our partners and all who have supported us along this journey. And most of all, thank you, our clients. Because of you all, we have grown from a small-city-of-Metz team into an international company.
Cheers to you, us, and our future. Happy 8th anniversary, SESAMm!🥂
---
Oh, right! The trivia question! Here's the answer.
SESAMm is an acronym for:
Stock
Exchange
Statistical
Analysis
Mechanism
The "Mm" in SESAMm hints at the French pronunciation of sésame. But mostly, we used the small m from the word Mechanism instead of an e to guarantee that the URL would be available.