SESAMm is proud to announce the launch of our latest solution: TextReveal® ESG Alerts. TextReveal ESG Alerts identifies ESG risks1 and positive impact coverage2 in over 100 languages by tracking mentions of your entire portfolio across 20 billion historical articles with millions of new ones added daily in near real-time.
1 Inspired by SASB and other major standards.
2 Based on UN SDGs.
Why use TextReveal ESG Alerts for your portfolio
Environmental, social, and governance (ESG) ratings have become a conventional measure of a company's risk against those business areas. They are also increasingly critical as legislation and stakeholders focus on sustainability, positive impact initiatives, and corporate social responsibility (CSR). So with the practice of ESG rating, investors have been able to use those scores to make decisions about their portfolios. Of course, investors are committed to a greener future, too.
Unfortunately, traditional ESG ratings come with challenges. For example, according to Andrew McLaughlin, a contributor to The Globe and Mail, many ESG rating providers are "popping up like dandelions," and "each uses its own methodologies to rank and score publicly traded companies based on their purported environmental, social and governance risk and performance." Further, you might have access to ratings, but they're only updated once per quarter or once yearly.
With SESAMm's TextReveal ESG Alerts, you can access consistent, timely daily data on five million public and private companies to better assess risks and receive early warnings.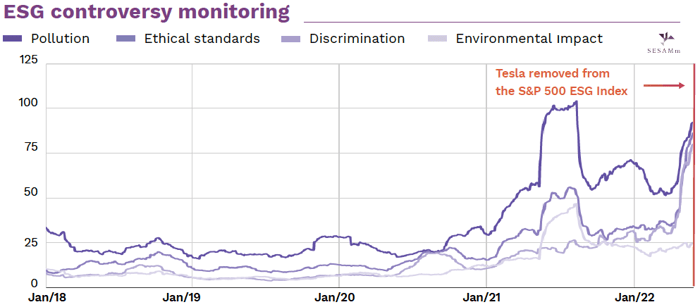 Figure 1: In 2020, U.S. news sentiment falls ahead of the stock market in response to COVID-19 concerns.
The model can calculate sentiment for each company by analyzing the news of individual companies. It's also possible to create a composite to measure the sentiment related to a stock index. The sentiment data also helps management and investor relations because it provides a quantitative means of understanding the extent to which investors are concerned about certain news about their company.
Verifying the results
Verification using Japanese has revealed that the timing of bottoming and ceiling of text sentiment precedes those of stock prices. The collaborating team compared the performance of:
A model that uses only orthodox financial and economic data as inputs
A model that considers NLP and financial and economic data, confirming that the latter could generate higher alpha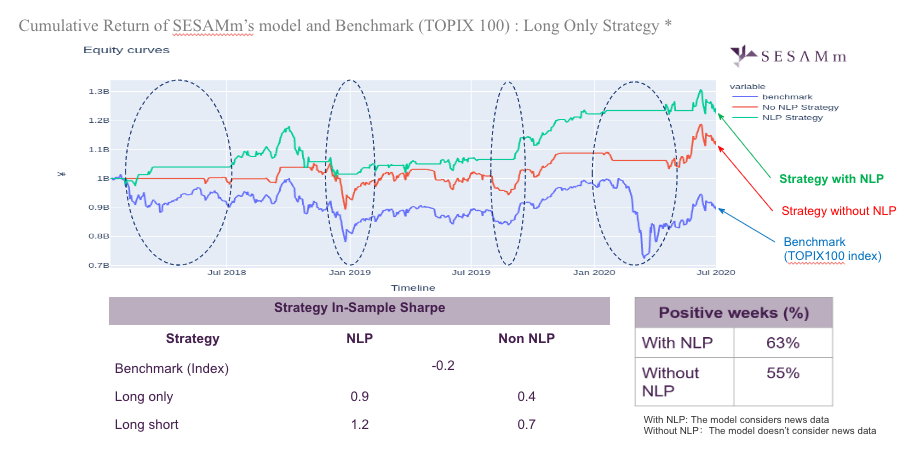 ESG controversy monitoring can alert you to potential risks before market-moving events occur. Illustrated: Tesla ESG scores for pollutants, ethical standards, discrimination, and environmental impact.
The TextReveal ESG Alerts edge
| | |
| --- | --- |
| Broad coverage | Expertise |
| Access five million private and public companies of all sizes, including micro-caps, to identify risks in over 100 languages. | Leverage ninety pre-built yet taxonomy-adaptable ESG risk categories such as SASB standards, UN Global Compact, and UN SDG-based positive impact statistics coverage. |
| | |
| --- | --- |
| Transparency | Timeliness |
| Gain insights with deeper analysis, seeing specific articles driving your alerts. | View live web data for forward-looking scores and insights. |
TextReveal ESG Alerts features
Because we trained them on a representative corpus selected from billions of articles from prestigious news organizations, local news, and discussion forums, our NLP tools can understand finance and interpret slang, misspellings, and textspeak.
Read more: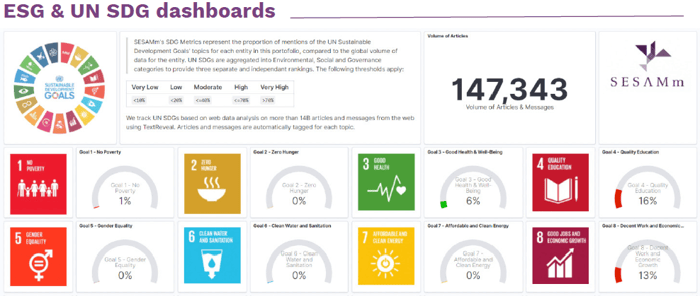 Get an ESG and UN SDG dashboard view of your portfolio.
The best part is that you can receive alerts and monitor scores in the way that works best for you. ESG and UN SDG‐based positive impact statistics can be accessed and delivered via:
| | | |
| --- | --- | --- |
| Email Alerts | CRM and cloud based integration | Live dashboards |
| | |
| --- | --- |
| API and data files | ESG studies |
Get the SESAMm edge from TextReveal ESG Alerts
Save time vetting your current investments and evaluating new ones while providing higher quality, objective results compared with manual monitoring, black-box ratings, or self-reported questionnaires.
Reach out to a SESAMm representative for a personal demo today.